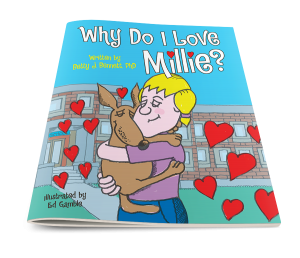 More than three million students are bullied each year, and many of the boys and girls won't talk about their experiences. Unfortunately, bully victims are more likely to consider suicide than non-victims. Bullying and its effects can't be ignored.
Why Do I Love Millie? tackles this tough subject in an easy-to-understand way. A young girl, Helen, finds help where she least expects it in coping with the mean girls at school. Even though her dog, Millie, can't talk or do people things, Helen finds comfort in Millie's supportive companionship and unconditional love. Sometimes, just having someone to listen quietly while we talk about life helps us figure things out.
This picture book for children shares the story of Helen and how she learns Millie is a loving and perceptive friend who brings her calm and understanding.

Why Do I Love Millie? by Betty J. Bennett, PhD

Why Do I Love Millie? by Betty J. Bennett, PhD